" How To: Survival in a Forest Area Part 2 "
DO NOT TRY THIS AT HOME : Text files and message bases are for INFORMATIONAL PURPOSES ONLY. Do not undertake any project based upon any information obtained from this or any other web site.We are not responsible for, nor do we assume any liability for, damages resulting from the use of any information on this site.
Welcome to the second part of my Wilderness Survival Guide: Forest Area. But before I begin the lesson, I would like to make a view comments on my previous egg. Many people have been commenting on it that it is c/p.
Quote:
This is an obvious c/p, but I wont rate it for now until I get evidence.
Quote:
cant find the article,but c/p
Quote:
u.s. army/military survival manual is where its cp'
d from
I find remarks such as these very offending for I have put time into these guides to help you guys out and you want to say that its c/p? The last comment was completely idiotic cause if you have read it, you would clearly see that it is not c/p. I create these guides from what I have learned over time from T.V shows, the internet, and live demonstrations. If you don't believe me, fine. But don't waste your time commenting that its c/p. Because only lazy bastards c/p. The only thing that is copied in this guide or any other guide I make, are the pictures.
Now that that has been said, lets get on with the guide. In my last guide we went over how to
Analyze
your surroundings, messure
Daylight
, build a
Fire
, and create a
Shelter
. If you have not read it, please do so at
http://rotteneggs.com/r3/show/se/206309.html
.
Without it, todays lessons will be practicaly worthless.
Water
In a forest there are many sources of water. But they can be harder to find. There are a few ways to collect water in a forest area. Some require a few items while others require only one.
Water Systems
This is as lucky as you can get. If you find yourself a lake or a river (even better), you are one very fortunate person. If you find water from a river, little to no precausions have to be taken and you can almost drink right out of it. How ever, if you decide to drink from a still system such as a lake, it might be a better descision to boil the water in some way before you drink it. Rivers are constanly moving to keep them fresh however, many things can happen in a slow moving lake. Remember that tire tubing we took from the bike? You can fill it with water and wear it around your neck. So now you have 2 containers of water. The bottle, and the tube!
Rain
Rain collection is a good method of obtaining water, however it is not the most reliable method. I heard stories of people waiting for rain to fall so they may have something to drink, but died waiting. Collecting rain should be just one source of collecting water, but shouldn't be your only one.
Still
A still is a pure method of obtaining water, however, it may take a little while. It also requirs a few items.
Items
Digging implement
A container (in this case, and water bottle)
4 larger rocks
1 small rock
Clear plastic sheet
Procedure
1. Dig a hole in the ground about 3 feet wide and 2 feet deep.
2. Place a container in the center of the hole.
3. Place green plants, leaves, ect into the hole surrounding the container.
4. Anchor down the plastic sheet over the entire hole with the 4 large rocks.
5. Drop the small wrong on the center of the sheet, directly above the container.
The finished still should look something like this: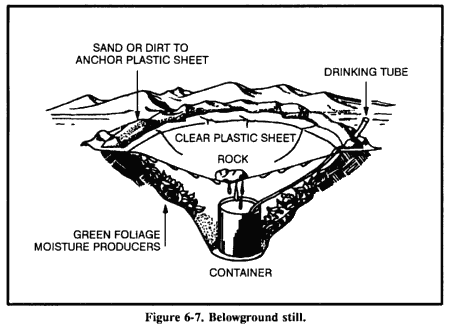 After a few hours, the plants will begin to give off moisture which will be evaporated, condensed onto the plastic sheet, and drip down in to the container as fresh water.
Food
In a survival situation, anything edible (and not poisoness) will do. You need energy to keep your body processing and without it, you'll just go
kaput
! But remember, even if you do have food, if you lack water, do not eat it. Digestion requires water, and if you eat and have no water in your system, you'll just end up being sick. Here are a few methods of catching some food.
Fishing
If you can find yourelf a source of water such as a river or lake, you are set. Now you have both food and water. A fishing line and hooks can be created almost out of anything. Shoelaces, natural threads, use your imagination. All of these things can be used for a line. Remember those prongs from the tire of the bike? You can bend them with either a rock or if you have it with you (I know I always do) your multitool. Bend it and snap it to a hook like shape and your good! Make a few hooks and attach them to the line. For bait you can use all sort of things, from maggots to grubs. Might as well grab yourself a few to snack on (i'm not joking). Tie it all down to something hard such as a branch stuck into the ground or a rock and leave it. Come back later and if your lucky you might have a fish or 2! But remember, don't always count on one source of food.
Hunting Small/Larger Game
Like always, there are a few methods of hunting small/larger game. Always be creative when doing so. Make inovative weapons that can help you. Use the tire prongs from the bike. Tie a few onto a hard branch to create a lethal sphere. Sharpen a hard branch to a lethal point and create another variety of spears. Its only limited by your imagination. To use these items, find your prey, stalk them as slowly and as quietly as possible. Then when the time is right, lunge at them or (if you have a good, powerful aim) throw the spear at them, killing them.
Snares
Snares are always a good choice, however they are not the most reliable source of getting food. Creating a snare is simple. Find yourself some thread first. Create a noose from it (you should know how to do that by now). Tie it down to a branch firmly placed in the middle of a path you know critters go through. When there head goes through the noose, it will tighten around there throat, and the more they kick to get free, the tighter it gets. Always set atleast 3 snares around an area. You might wake up one morning and find a rabbit stuck in one.
There are too many methods out there of hunting and obtaining your food. These are just a few. To learn more about them, please visit
http://www.wilderness-survival.net/chp8.php
.
Escaping
After a you have planned everything out and are prepared, it is time to start pushing forward. Prepare yourself and start traveling towards which direction you think will lead you towards society. Stick with your gut feeling. Most of time, people will have reached some form of civilization, and found there way back top life.
Conclusion
That concludes my Wilderness Survival Guide: Forest Area. Remember, if you want to learn more about wilderness survival, please don't hesitate to refer to
http://www.wilderness-survival.net/
or message me. Wilderness-Survival is one of my most favorite websites and please remember, just because I use it to gather my information, doesn't mean that I c/p from it.
Comments