Mature Audiences
The content in the story below is intended is for INFORMATIONAL PURPOSES ONLY. Do not undertake any project based upon any information obtained from this or any other web site. We are not responsible for, nor do we assume any liability for, damages resulting from the use of any information on this site. Before continuing, please ensure you read and agree to our
Terms of Service
.
" How I Hacked Fattard's Account "
DO NOT TRY THIS AT HOME : Text files and message bases are for INFORMATIONAL PURPOSES ONLY. Do not undertake any project based upon any information obtained from this or any other web site.We are not responsible for, nor do we assume any liability for, damages resulting from the use of any information on this site.
note: I apologize if this is a little lengthy, but I wanted to detail it as much as I could remember.
It all started yesterday... After logging onto RE, doing my daily sports betting and checking the forums, I began browsing the eggs. A good bit of them were crap, as usual, but I always try and take the time to read and rate them fairly.
That's when I stumbled on fattard's egg about loading passwords and login information. Looking through it, I was surprised someone would just hastily scribble out his login information and passwords. When I reached one of the final images, I had to stop and laugh as fattard completely forgot to block out one of his passwords.
Like a shark smelling water, I went to work. Sadly, I noticed that someone had already beat me to breaking into sup#%!@'s account. However, I refused to give up.
Pasting the image files into Paint Shop Pro, I studied the images carefully. I had the important password, I just needed the email address. I noticed bits of letters, but sadly, I could not make out what they said. Again, I refused to give up. When Lady Luck bends over, you don't just turn the other cheek... you hit that shit!
Anyway, using some other text that was readable, I matched the font type and font size perfectly. I tested this by lining a matching piece of text over top of the background image.
Armed with this simple tool as my mighty weapon, I discovered two of the email addresses that matched were almost definitely the same one, since most people don't have a million email addresses. I also noticed the top of one was fairly visible as was the bottom of the other. Cutting the top of one, I pasted it and carefully maneuvered it over top of the other, lining it up using the @ symbol.
With just a few pixels of the top and bottom, I zoomed in a few more sizes and began attempting to decipher the letters, typing them onto the screen in the matching font.
When I reached what I believed to be the correct email address, I tested it out on his homestead account, which I knew he had from the egg. Sadly it failed and I knew I had messed up. I began running through the letters and after another wrong guess, I matched the email address up and logged in! My "hacking" had worked!
Unfortunately, his homestead account was about to expire and he had never done anything with it, so I just tossed in a few changes, saved them and logged out. I then decided to check if the username and password matched an RE account.
Actually, I was pretty sure it would, but I figured it would be sup#%!@. Luckily, my try paid off as I logged in successfully to fattard's account! Of course, I changed his default image. :)
I then attempted to post on the forums, but sadly they were down at the time. Afraid I wouldn't get the opportunity, I logged into the chat and print screened again...
Angered that I couldn't get a post up on the forums, I created a new primary image for fattard and logged out to see if I could post from my account. I couldn't yet, because the forums were still down, but I did print screen his profile from my account...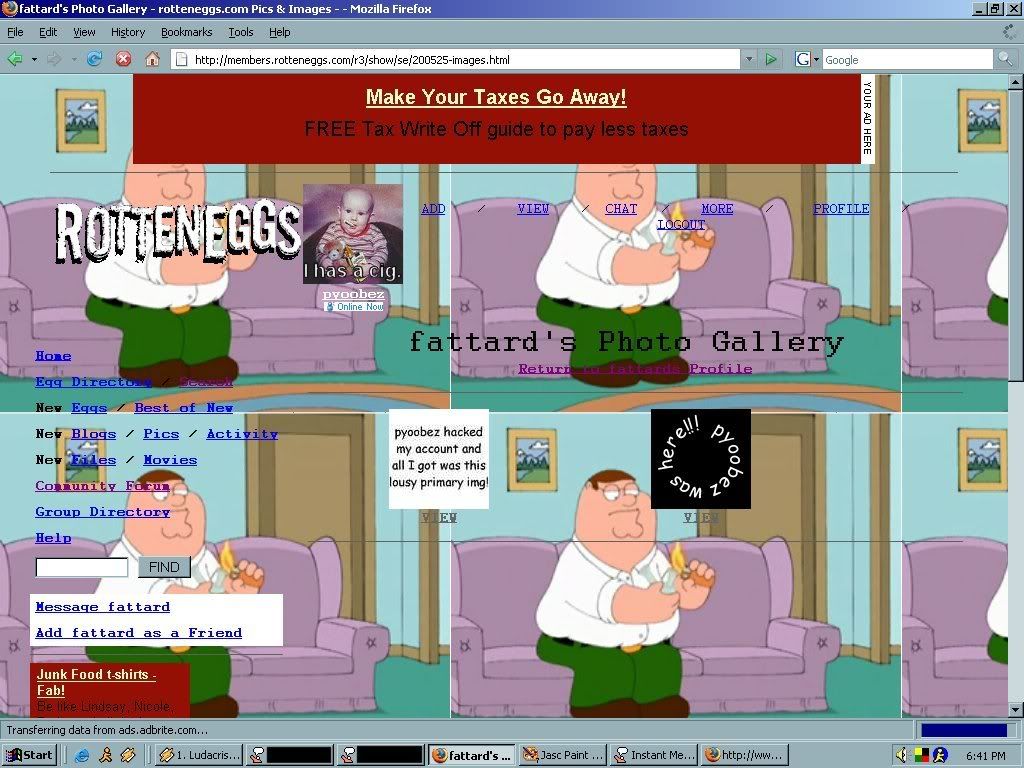 Finally, I managed to get into the forums as myself and then logged in as fattard for a bit of fun on the In My Opinion board (fattard is still a noob and can't post in General Discussion).
Overall, it was a fun experience deciphering the "code". I decided to play nice and not mess with fattard's points, say he was gay in the forum, make a spegg, etc. I even let him know I was in his account and suggested he change the pics or dl the egg and also to change his passwords.
Obviously, there's a lesson to this... don't give anyone (let alone a stranger) half a chance or they'll mess with your stuff.
Oh, and fattard was pretty cool about it after added him as a friend (then allowed from his account, lol) and sent him a message letting him know what I did. Although, he had no idea how I even managed to get into his account.
Anyway... don't be a fattard :)
Comments