" How to Make a Bump Key. "
DO NOT TRY THIS AT HOME : Text files and message bases are for INFORMATIONAL PURPOSES ONLY. Do not undertake any project based upon any information obtained from this or any other web site.We are not responsible for, nor do we assume any liability for, damages resulting from the use of any information on this site.
HOW TO MAKE BUMP KEYS FOR ALL KINDS OF LOCKS
This egg explains how to make a bump key out of any key, meaning if you say, have a key to a masterlock,
you can make a bump key for masterlocks!
so. lets get started. for this egg, all you will need. is...

A KEY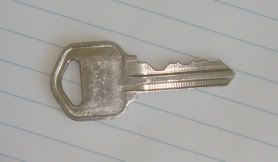 and...

A FILE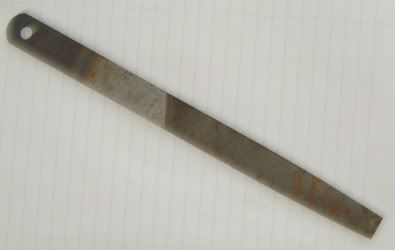 GETTING STARTED
Now first let me explain how a bump key works for those of you who dont know..
a bump key is made by setting the cutting machine to the lowest depth (with is 9, thats why
bump keys are also called 999 keys) for every notch. or if you dont have access to a cutting machine
, by fileing down every notch to a 9 depth. why do we do this? well because now the bottom pins in the lock will
sit either flush between the two cylinders or more into the key cylinder (if you dont understand look at the bolow
illustration.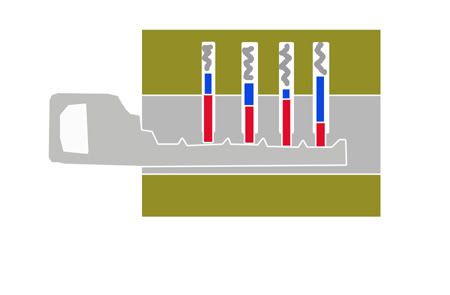 See how there are top and bottom pins, on this picture?,
you cant open the
lock because some of the pins are keeping the cylinder from turning. , normaly
when the correct key is inserted, the bottom pins will line up perectly (like the first set of pins
is on the above picture, only all of the pins would look like that.)
but when you use a bump key, you put the key part way in,slightly apply torque (turn the key slightly) then you tap it with something(a cologne bottle
is my item of choice, just because i usually have one with me.) , if you look at the below picture, this is
what happens right when the key goes in.
See how all the top pins fly up?
if you where applying torque, the cylinder would turn right now. meaning,
the lock is opened!thats because the little mountain on the key hit the pins on the way into the keyhole.
and just like when you do a combination shot in pool, the bottom pin didnt move, because the force was
transfered to the top pin.
MAKING THE ACTUAL BUMP KEY
so now onto makeing one. its pretty easy, you just have to be patient.
so lets start with whatever key you want. i am using a duplicate key i have...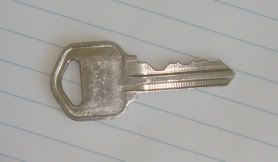 so what we need to do, is to file down all the grooves to a 9 depth, which is slightly above the lowest part
you can go to without running into the middle part of the key. On my file, if i turn it to the side. it's the perfect
size of the grooves. so find one that fits the grooves perfect. and start filing away the first groove. it should look
like this after you're done.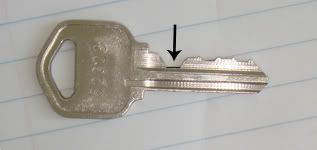 see how it goes all the way down. thats exacly how you want all the grooves to look like. so keep going.
once all of them are done, your key should look like this.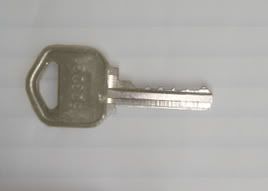 its not perfect at the end. (i kinda got in a rush) but it defitally works caz i tried it.
also , a big thing to make sure you do, is to make sure the little mountains are decently smooth.
because if they arent your key will get stuck in the lock. try explaining that one. so test it out on a lock
at home.
Hope this egg helps alot, I didn't see any good bump key eggs, so I thought it would be good to make one.
Good luck!
Comments